CeBIT is Platform for Introduction of New Crowley Company Scanners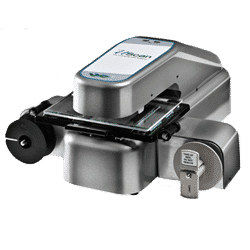 Frederick, Maryland and San Dimas, California (USA) and Basingstoke, Hampshire (UK) – For more than ten years, Christopher Crowley, president of The Crowley Company, has understood the value of debuting new capture hardware at CeBIT, an international technology trade show. "This is the international show for high-tech solutions," says Crowley. "We've found the global reach of CeBIT a smart venue to introduce products that we manufacture and sell worldwide. The show has a solid reputation for attracting high-level management from nearly every country in the world and allows us personal access to buyers from every region. Last year, we introduced the UScan Universal Scanner and sold more than 300 units in just six months. This year, we'll be introducing the next generation UScan and our brand new MACH12 microfilm scanner." The company will also unveil plans for a Wicks and Wilson mid-line of microfiche and microfilm scanners.
THE USCAN2: High definition images
The initial success of the UScan Universal Scanner, an all-in-one reader/printer that scans, saves and prints images from microfilm, microfiche, aperture cards, photo negatives and other microform media, proved to The Crowley Company that the market was viable. Matthew McCabe, a Crowley vice president, says, "We introduced the UScan at CeBIT last year to strong interest. Primarily used in libraries, government offices and corporate archives – basically anywhere that caters to walk-up patrons or necessary but infrequent use – this scanner fills a niche with its portability, affordability, ease-of-use and option to scan many microforms into popular digital file formats. This year's unit, the UScan2, features a high-resolution USB3 camera which provides glitch-free onscreen motion and multiplies the already-good original image clarity and legibility by over three times. This is especially important for those reading small-type newspapers, business stock pages and engineering plans from microfilm. In lay terms, it's the difference between watching regular television and HDTV (high-definition television)." The USB3 camera is standard on the UScan2 and is available as an option on the lower-priced UScan.
MEKEL MACH12: True optical resolution meets highest
archival requirements
For archivists and records managers, there is no greater measure of success than accuracy to the original media. In today's business climate, that accuracy has to be paired with maximum efficiency. The MACH12 production-level microfilm scanner combines the best of worlds, using U.S. National Archives and Records Administration (NARA) and Library of Congress preservation specifications as the gold standard. The MACH12 hosts a 12-bit camera with an output range of 8-bit to 12-bit file output, clarifying small fonts and highly reduced images and allowing for ever-higher OCR accuracy. Notes McCabe, "Mekel Technology introduced the world's first microfilm and microfiche scanners in 1989. Since then, Mekel, under the ownership of The Crowley Company, has been on a path of continuous innovation. To be heralded as one of the world's leading brands for more than two decades in any industry is no small feat. The advent of the MACH12 is one more example of not resting on our laurels, but of determining what the market demands and then using our expertise and technology to deliver."
Wicks and Wilson 8800 and 7700 Series
Not present at the show, but discussed, will be additions to the Wicks and Wilson 8800 (microfilm scanner) and 7700 (microfiche scanner) lines later this year. Touting the high-technology that powers the 8850 and 7750, the new 8820 and 7720 scanners will offer production-level quality at lower output rates and a lower cost. "For many potential clients," says McCabe, "speed is not as important as image quality. By creating and offering a mid-volume scanner line, our Wicks and Wilson brand can now cater to those that want the reputation at a price that's more affordable."
The Crowley Company will exhibit in Hall 3, Stand G30.
CeBIT is the world's largest trade fair showcasing digital IT and telecommunications solutions for home and work environments and will take place March 5-9 in Hanover, Germany. The key target groups are users from industry, the wholesale/retail sector, skilled trades, banks, the services sector, government agencies, science and all users passionate about technology.
CeBIT offers an international platform for comparing notes on current industry trends, networking, and product presentations. Deutsche Messe AG has organized CeBIT in Hannover each spring since 1986.
PHOTOS AVAILABLE UPON REQUEST