The Crowley Company to Debut Book and Microform Scanners at ALA Annual 2013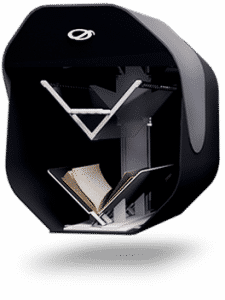 Frederick, Md. and Chicago, Ill. – Christopher Crowley, president of The Crowley Company, announces the new products displaying at this year's American Library Association (ALA) Annual Conference & Exhibition at McCormick Place in Chicago, IL from June 27 – July 2. The headliner will be the Qidenus SMART Book Scan 3.0, making its first U.S. appearance. Crowley will also premiere three additional book copiers and microform scanners. Matthew McCabe, vice president of business development, states "These models represent the latest advancements in imaging technology, directly reflecting the changing needs of our clients and incorporating their feedback into our ongoing R&D efforts."
Qidenus Technologies, known worldwide for its high-end robotic scanners, has just introduced the affordable Qidenus SMART manual book scanner. This model takes advantage of the brand's distinctive design and specialized features, including the V-shape specially-coated anti-reflection glass cradle and the latest CMOS sensors for high-quality image capture. The SMART's manual system and user-friendly Smart Scan Software make it easily accessible for library and university administrators.
The OmniScan 12002 series is the next advancement in Zeutschel book copy technology. This overhead unit offers true optical 400 dpi resolution and fast scan-speed in a convenient A2 size. Library patrons and archivists alike can scan large-format documents, books and maps with ease and without damage to the original material. Also manufactured by Zeutschel is the compact zeta book copier, featuring seamless document delivery with PerfectBook 3.0 technology integrated into the user-friendly touchscreen panel. Installed in more than 100 academic and public libraries, the zeta is designed for low-volume, front-end patron scanning and can be fitted with an optional pay-per-use interface.
The introduction of the UScan+ celebrates the one year anniversary and proven success of the original Wicks and Wilson UScan Universal Film (UF) Scanner. This next generation multi-form scanner features the addition of color scanning, a higher reduction ratio, USB 3.0 interface and more. Ideal for walk-up use, library patrons can read or scan from microfilm, microfiche and aperture cards and save to a number of output options including file; CD/DVD; USB; email and cloud.
The UScan+, Qidenus SMART and both Zeutschel scanners are all Interlibrary Loan (ILL) compatible.
The MACH12 is the latest development in Mekel microform technology that began with the introduction of the world's first microfilm scanner in 1989. Designed for production volume archival scanning, The MACH12 offers true optical 400 dpi+ resolution across all sizes and formats of 16/35mm microfilm and is powered by Mekel Technology's proprietary Quantum scanning and processing software.
"ALA provides the perfect platform to introduce fresh product offerings," states Crowley. "This year's models offer accessible preservation solutions for librarians and archivists, as well as easy-to-use walk-up functionality for patrons." Attendees can visit Booth 344 for hands-on demonstrations of these products and to discuss imaging solutions. Librarians and archivists are welcome to bring material samples to scan or copy during a one-on-one demonstration.