NEW!

SCAMAX® 600 Series
Ultra High Performance Production Document Scanner
Get a Quote on InoTec 600-Series Document Scanners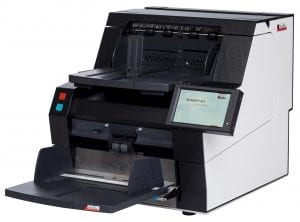 Introduced in the fourth quarter of 2019, the InoTec SCAMAX® 6×1 revolutionizes the ability to efficiently scan large volumes of paper records and archives at high speeds and with superior image quality. Offering a USB 3 port and duplex scan speeds of up to 420 ipm, the InoTec 600-series scanner builds on the robust design of prior models with added features.
Among many, key features include:
Image optimization

intelligence via InoTec's Perfect Document Technology

Durable components

for a low total cost of ownership (TCO)

Ability to upgrade

to a higher model in the field. No swapping, shipping costs or downtime.
Specialized

scratch-resistant glass

. Resists damage from staples, paper clips and page grooves and delivers with a three-year no-scratch warranty on glass guides.
Straight-through paper path

with front or rear document output

.

Ensures no roller jams or damage to documents.
Gentle, maintenance-free

belt transport

system

Easily-accessible

transport path

Wide transport width

(12.5″/317.5 mm)
Output hopper.

Four angle options

to maximize efficiency.

Adjustable feed pressure

. Accommodates document diversity easily.
7″

multi-touch communication panel

. Clear instruction and "traffic light logic" makes for for fast, intuitive handling.

Optional imprinting. Imprint up to four lines of text and barcode printing in resolutions of 300, 600 and 1200 dpi.
Powered by InoTec's SCAMAX® scan+ software, the 600-series includes the 601, 611, 621 and 633 models.